Let Us Tell You Our Story
From the Beginning...

Hi, my name is Nicole Wong and I am the head of development for the air purifier division. As a survivor of a break-in gone bad that ended up causing a massive fire in my home, it made sense for me to be at the forefront of Medical Breakthrough's latest invention. A couple of years ago I suffered major pollution attacks after a fire erupted inside my home and left me stuck in a closet for over thirty minutes. The firefighters had to climb-in through the bedroom windows to save me and my daughter but, they couldn't make it in time before I collapsed.
A few days later, I was awake and safe in the hospital with my daughter fully recovered. I suffered severe trauma that caused inflammation inside my lungs due to the increased smoke inhalation and bruises on my arms. My allergies had peaked and I became sensitive to a lot of particles and pollutants. Immediately after we were discharged, we were put in a hotel for several months till our house could get built back to its original form. My life became a living hell because of the constant headaches and pains from poor ventilation in that hotel. Every day was highlighted with extreme sneezing and migraines that made my eyes bulge. The hotel was able to order air purifiers to help accommodate my stress but, the product did little to help alleviate the pains I was already feeling. I didn't believe it even worked because nothing had changed and no progress had been made on my condition.
A year later, we moved back into our house. Everything felt fine again until spring when all the pollens in the air traveled into our home regularly. Sneezing and migraines weren't the worst of it because major sinuses and congestions made life unbearable. Again, we went out and bought three new air purifiers to help clean up the air in the home. That only worked for a few weeks because the units kept breaking and basically only blew air and didn't suck anything.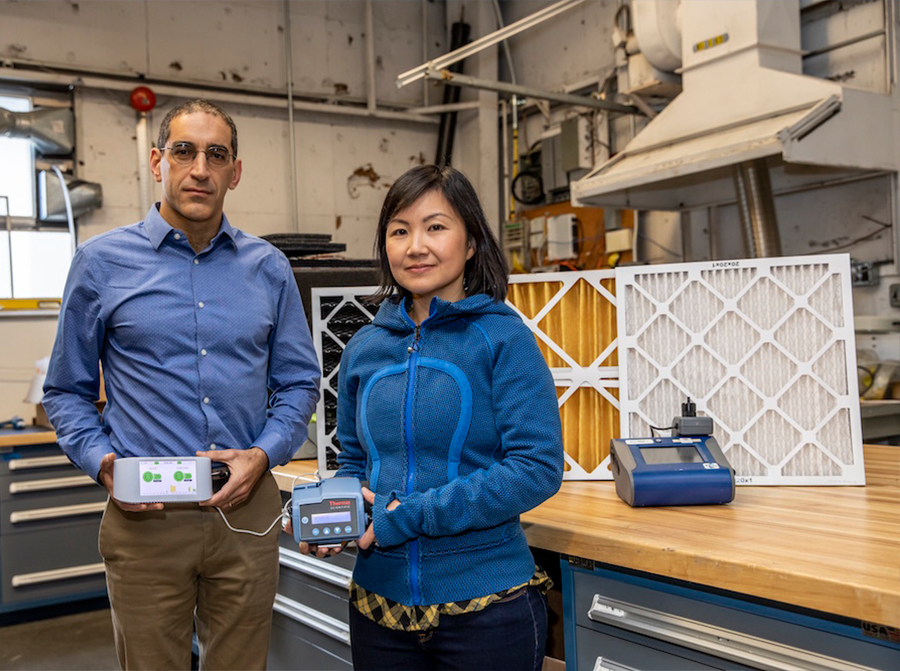 I thought of all the people like me going through allergies and asthma attacks that weren't able to get the full benefits of air purifiers. I wanted a product that would effectively filter the polluted air in my home while simultaneously releasing clean air back in. A unit that would be consumer friendly and hold up its lifeline longer than anything on the market.
After putting hundreds of air purifiers to the test, our experts discovered that most of them did little to improve our consumer's quality of life. Our goal became to create the ultimate air purifier, one that merges craft and ingenuity with safety and practicality. We partnered with seventeen pulmonologists, engineers, designers, and programmers to make our air purifier as innovative and as health-focused as possible. These experts worked day in and day out crafting, fixing, and experimenting on all the possible features.
With all hands-on-deck and years of research, we finally created an air purifier that not only looks contemporary but, promotes clean air and wellness for our customers. In the end, we named out finished line the Pulmonologist series because our air purifiers are especially beneficial to those struggling with respiratory issues. The stress and discomfort I suffered years ago started to wane when I got my first batches in my home. Our purifiers have brought some real-life joy to my home and I'm sure it will do the same for our consumers. With daily use, the air in the home is cleaner and fresher.

Millions of Americans suffer from respiratory problems*. Our air purifiers are without equal and will not only make you feel good while you're using them but, have a lasting impact on your surroundings. We've worked around the clock with some of the biggest doctors from Princeton, Yale, and Stanford to create and develop the ultimate line air purifiers. Together, it took us over 7 years to perfect the process. Since the medical benefits of air purifiers were our sole priority throughout the design and engineering process, we felt that there was no better name for our company than Pulmonologist™.
We accept nothing less than perfection so we are in control of the product from start to finish; we don't allow any middlemen to compromise our vision. You can purchase our air purifiers directly from us with confidence, knowing that you're getting an unmatched product.
Many of our competitors offer air purifiers that are poorly made or missing key features. Pulmonologist air purifiers are made with top notch materials, our manufacturing practices are industrial grade, and our facilities are world class. We spare no expense when making products that can help you heal.
It's our mission to help you improve your body, mind, and soul with our air purifiers.
We are proud to serve our customers and provide better health.
Go see what our customers have to say by reading through the Pulmonologist air purifier reviews here ---> https://www.pulmonologist7.com/reviews.php


Pulmonologist7™ is a division of Medical Breakthrough™.